Redbud Labs's MXR microfluidic chip is the world's fastest, most adaptable cartridge-ready™ microfluidic mixing component. MXR ("mixer") enables effective, controlled fluid mixing at low volume levels, less than about 200 μL. MXR is a modular, fully assembled microfluidic chip that simply clicks into place in a testing cartridge. MXR effectively overcomes limitations due to poor mixing and is useful in a variety of applications, from biomarker discovery to point-of-care diagnostics.
Minimize risks.
From biomarker discovery to diagnostic test production, whatever your application, MXR is cartridge-ready. Choose to develop your assay using our modular starter kits. Design a protocol that fits your needs, whether it uses static chambers or continuous flow. Integrate mixing wherever it's needed by integrating the chip in a single step. Assemble your consumable in high-volume using standard equipment. MXR enables both assay and system developers to work at the microfluidic level with the same component and get the same performance throughout thereby mitigating assay rework risks that are common in porting a benchtop assay.
Control costs.
The MXR chip could replace multiple components in an assay cartridge, thus reducing the number of assembly steps and a system's cost of goods significantly. In addition, reagents commonly drive a system's build of materials cost. However, since MXR is so effective at mixing, reagent requirements for quantity and/or concentration can often be lowered having a significant impact on the system's cost.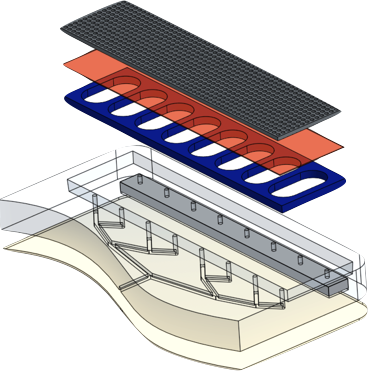 ABOUT CARTRIDGE-READY CHIPS

Offices, Production, and Labs
400 Park Offices Dr. #301
RTP NC 27709
Mail
PO Box 13195
RTP NC 27709
We support inquiries via Science Exchange
Redbud Labs, headquartered in Research Triangle Park, North Carolina, manufactures breakthrough components for life science industry, intended to solve the industry's ubiquitous microscale fluidic challenges.