Tweak your cartridge.
Transform your assay.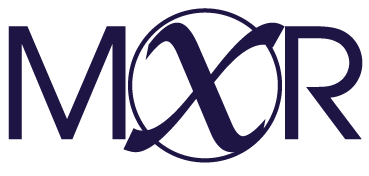 Introducing the fastest, most adaptable microfluidic mixer in the world.
Speed up your assays, shrink your system, and reduce your assembly costs.
Meet the world's fastest, most adaptable microfluidic mixer.
MXR stirs up a chamber in seconds. This feat is powered by Redbud Posts, microscopic features that move like tiny stir bars to agitate microliter volumes of fluid. MXR is perfect for 1–100 µL volumes and 0.1 – 1 mm tall chambers.  
This isn't the first method for microfluidic mixing, but it might be the first you'll actually use. MXR can rehydrate dried reagents, blend two liquids, or speed up liquid-phase reactions.
Learn more about microfluidic mixing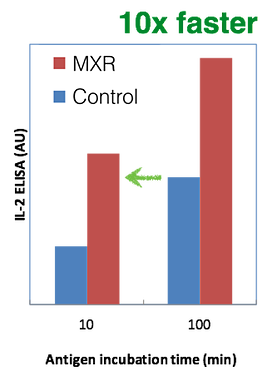 A whole new kind of kinetics
You wouldn't expect great results from a chemistry lab without a shaker or rotator. Don't expect to get away with concentration gradients when your assay moves from the bench to a cartridge. MXR makes any chamber a mixing chamber, with no pumps, bubbles, or vibration. It's even compatible with optical and electrical sensors. The result is faster reaction kinetics, better analyte utilization, and better analytic consistency.
See how mixing makes assays 10x faster.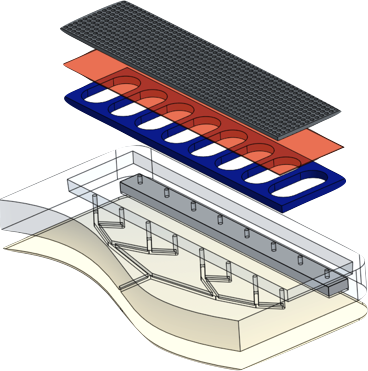 Make any chamber a mixing chamber
MXR uses a patent-pending modular design that makes adding mixing to your existing cartridge a breeze. MXR won't constrain the design of your cartridge or instrument, and it might even lower your assembly costs. Whether your design is based on an injection molded chassis or laser-cut laminates, whether it's powered by capillary action or pneumatic fluid control, MXR can work with your processes. Zero dead volume, no pumps, and no new tooling tolerances. Just mixing, right where you need it.
Learn how easy it is to add MXR to your cartridge.
| | | |
| --- | --- | --- |
| MXR Tech Specs | Standard format | Custom format |
| | | |
| Chamber volume | 17 µL | 1 – 200 µL |
| Chamber height | 360 µm | 70 µm – 1.5 mm |
| Chamber footprint | 10 mm x 5 mm | 0.25 mm (minimum dimension) |
| Chip thickness | 1.9 mm | 300 µm or greater |
| Chip footprint | 12.5 mm x 17.5 mm | 2 mm (minimum dimension) |
| Fluid input port | P20 pipette vents | Contact us |
| Surface chemistry | Polydimethylsiloxane | Contact us |
| Sidewall adhesive | Permanent hydrophilic bond | Various: Hydrophobic, temporary, etc. |
| Temperature range | 20 – 70ºC | Contact us |
| Minimum sample surfactant | | |
| SDS | 1.0% | Contact us |
| IGEPAL CA-630 | 0.1% | Contact us |
| Triton X-100 | 0.1% | Contact us |